Last week the boys and I took school on the road again. We explored and adventured through the great state of Texas. I seriously have only been there once, and that was for a world sport stacking competition, so I spent most of my time in the hotel or at the conference center.
What a treat this trip was! We've tent-camped on all of our other trips to keep the cost down, but this time was different. Dear, sweet friends of ours live in San Antonio and invited us to stay with them. Their house became our home base.
On a side note…I'm so glad we didn't camp. It was colder in Texas than it was back home in Colorado. And it rained on and off the first two days. Not a refreshing sort of rain, but a freezing I-just-want-to-climb-into-a-hot-bath-and-soak sort of rain.
I won't bore you with all the details, but we spent a day in Austin. We took a tour of the State Capitol (didn't know we'd be doing this until the night before). The place was abuzz with activity. Men in suits and women in dresses were everywhere. It was the first time I'd ever heard a Shultz boy utter these words: "I feel completely underdressed." If you've seen pictures, you know…Shultz boys wear athletic shorts most of the time. There aren't too many occasions they dress up for. And, we live in the West, so it's not really frowned upon. Besides, I have four boys who don't seem to care. They'll wear whatever and it's no biggie. But…Oh. My. Goodness. We stood out like a psychedelic poster from the '70's. I will say that no one stared or made us feel out of place. Thank you, Texans! 🙂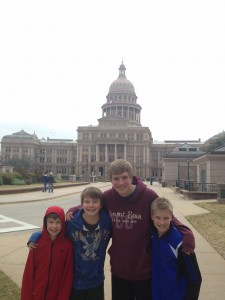 We quickly discovered that we were walking around among Senators, Congressmen, Lawmakers. It was opening day of the legislative session. How cool is that?
After the Capitol, we spent hours soaking in the history of Texas at the State History Museum. It was a feast for the eyes and a plethora of information for this history-buff mama.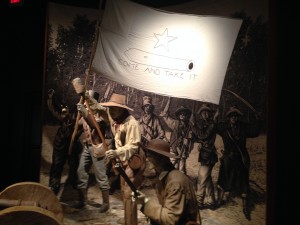 After spending the night back at home base, we rose early and made our way south to Corpus Christi, where we enjoyed suffered through a short walk along the beach (38° and spitting ice). Then we spent 4 hours touring the USS Lexington. Hands down, this was the coolest (according to the boys) thing we've ever done on one of our school trips. In their eyes, it beat Mt. Rushmore, Jewel Cave and Bandelier National Monument. I'm still partial to Bandelier, but the Lexington was amazing!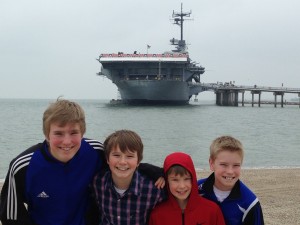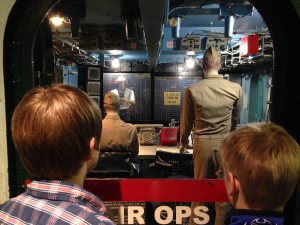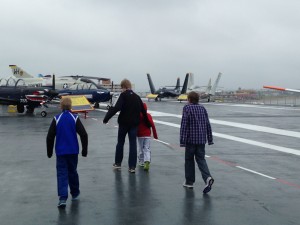 After spending another night back at home base, we rose early and drove the short distance to downtown San Antonio. The sun came out and this time we really did enjoy our time outdoors — walking along the River Walk. We spent the day visiting The Alamo, the four San Antonio Missions and King William Historic District.
I am seriously geeking out just telling you these little details about our journey. It was pretty much a geek-out week for me!
On Friday morning we began our trek home, taking the long way to Lubbock, where we would spend a last night in Texas. We drove to Johnson City to learn as much as we could about our 36th president. We visited LBJ's boyhood home, his grandparents' settlement, his one-room school house, his birthing place, his ranch and the Texas White House. Then we drove through the hill country and found our way to a Whataburger.
There you have it. Our trip in a nutshell. And here's what I want to share with you…
As we were driving through the hill country of Texas, making our way back home, I told the boys, "Put your books away, put your electronics down. This is a part of the country we've never seen before. Keep your eyes on what the Lord has created for us to enjoy and soak in its beauty."
The moment I said this, the words from Deuteronomy 6 washed over me:
"These commandments that I give you today are to be on your hearts. Impress them on your children. Talk about them when you sit at home and when you walk along the road, when you lie down and when you get up. Tie them as symbols on your hands and bind them on your foreheads. Write them on the doorframes of your houses and on your gates" (Deut. 6:6-9 NIV).
I thought back over the rest of our trip. All along the way, we stopped to see things we have never seen before. We even marveled at the beauty of the prickly cacti, recognizing God's handiwork. We sang songs of praise, filling our Suburban with melodies that I am certain made the Lord smile (and, before you go getting it into your head that we're a perfect family, we filled our Suburban with sounds that I know did NOT make the Lord smile…far too often!). On our way down to Corpus Christi, we boldly asked the Lord to part the clouds and bring out the sunshine, just so we could enjoy the beach. As we left Corpus, we thanked the Lord that although He chose not to part the clouds, He helped us have hearts of contentment, even with the cold, fog and freezing rain. In fact, while on the deck of the USS Lexington, we forgot all about our chattering teeth as we watched porpoises (we thought they were dolphins, but a Corpus friend told me otherwise) frolicking in the bay. In our giddiness we talked about how the Lord delighted in showing us landlocked folk these graceful ocean creatures. We marveled at the gift of staying with friends, who provided a place to stay and food for us. And the gift of low gas prices? We remembered each time we filled up that we serve a God who provides.
These times of remembering and talking about who the Lord is are extremely important times. May we be a people who talk about the Lord with our children…when we sit at home, when we walk along the road, when we lie down and when we get up.
We were on the road last week. We had lots of moments to talk about the Lord (when we walk along the road) — who He is, what He's done, what He calls us to do. This week, we're back at home, business as usual. I'm not sure what you're doing or where you are. But, whatever we're doing, wherever we are, let us tell our children about our Lord throughout the day, throughout the week, throughout the month, throughout the year.
May we be parents who are faithful with these moments when we walk along the road.