As I spend some time in the book of Jeremiah this morning, I'm reminded of the work the Lord does in my life and in the lives of my children.
This is the word that came to Jeremiah from the Lord: "Go down to the potter's house, and there I will give you my message." So I went down to the potter's house, and I saw him working at the wheel. But the pot he was shaping from the clay was marred in his hands; so the potter formed it into another pot, shaping it as seemed best to him.
Then the word of the Lord came to me: "O house of Israel, can I not do with you as this potter does?" declares the Lord. "Like clay in the hand of the potter, so are you in my hand…" ~Jeremiah 18:1-6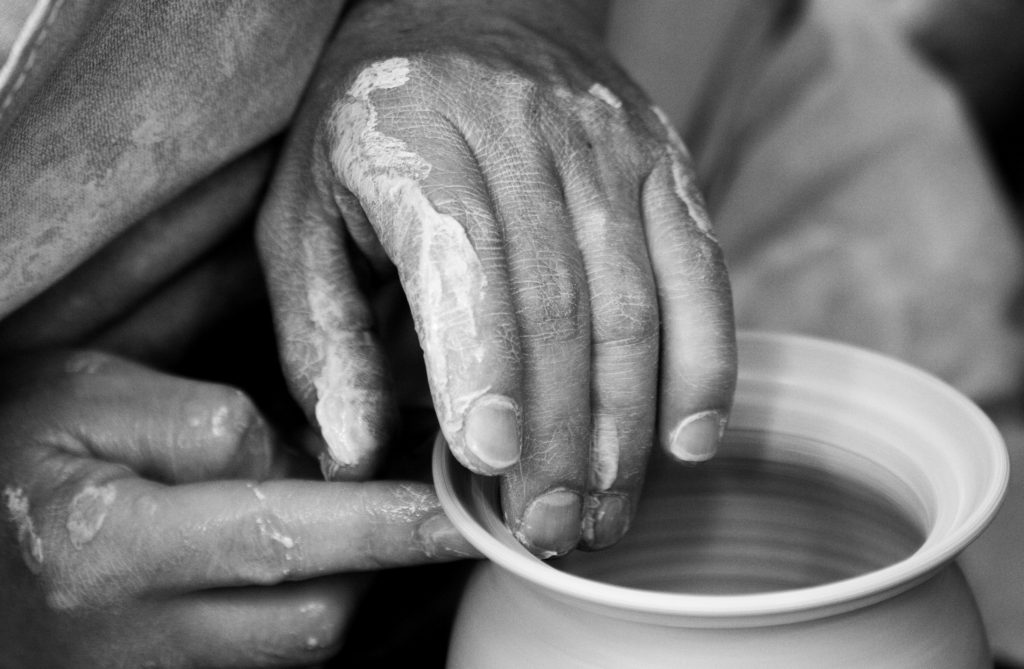 If we are His people, then we are also like clay in His hands. He is constantly molding, shaping, re-forming His own. He does this for (to) me. He does this for (to) my children.
As Mom of six, there are things I want to protect my children from, pains I want to take away, trouble I want them to avoid, betrayal I want them never to feel, sickness I want to heal, sins I want them never to struggle with.
I want my children to be clay in my hands.
But, there is only ONE Potter, and I am clay in His hands, so I cannot possibly be a potter, let alone the Potter. Clay is molded. Clay does not do the molding.
What do I do with this realization when it comes to parenting?
I let go of the "best" I want for my kids. I trust in the work the Potter is doing. I surrender my will and my ways, believing that the things, the pains, the trouble, the betrayal, the sickness, the sins are all a part of the shaping the Lord is accomplishing.
And I pray. Pray that my children will be mold-able; pray that they will be soft to the things of the Lord; pray that they will seek and pursue and listen to His Word; pray that He will be faithful to draw their hearts to Him; pray that He will strengthen them to say NO to the things of the flesh, and say YES to the things of the spirit; pray that He will continue to chase after each one of my kids.
I am marred. My children are marred. But just as He is re-forming me, He is re-forming them.
Friends, our Lord does beautiful work. He is shaping our children as seems best to Him. May we trust the shaping He's doing. After all, there's truly nothing better than His best.