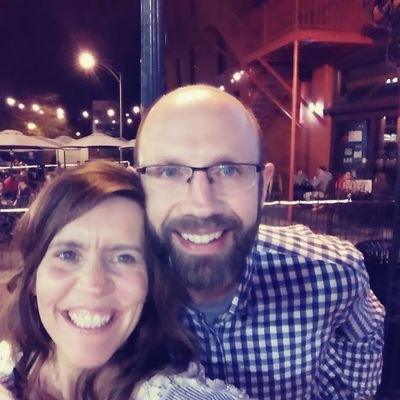 We are so excited to officially welcome our newest full-time staff member to the FamiliesAlive team. Andy Koesters will serve as Pastor to Churches and Families. Take a moment to read through our interview with him to get to know his background and heart!
A large part of Andy's role with FamiliesAlive will be working with church leadership to build next-generation discipleship cultures in their churches. If you are in a church leadership role, or would like to connect him to your church leadership, he'd love to get in touch with you! You can send him an email at [email protected] to start the conversation.
Early Life & Ministry Background
Q. Tell us a bit about your upbringing and family life growing up.
A: I was born on December 4, 1978, in Cincinnati, Ohio to Gary and Patti Koesters. I am so thankful to the Lord that He blessed me with two parents who loved and cared for me. Even though they were loving toward me, there were two major difficulties in my family: my parents got divorced when I was very young, and they never really talked about the Lord very much with me growing up. They took me to church, which I am very thankful for. The Lord provided many of His people to be gospel witnesses to me. I have one sister, Karli, who is eleven years younger than me. I mostly grew up in Cincinnati, except for three years spent in Lake Tahoe, NV during my elementary years.
Q: What's your educational background?
I had an idea that I might go into ministry at some point when I was in high school. I had been poured into by believers and I had a sense that I wanted to do the same for others. I went to the University of Cincinnati for a Bachelor's degree in Sociology with the plan of getting my Master's degree in Christian counseling. While searching for grad schools, the opportunity to become the youth director at our church came available. The Lord led me and Jodi to take that opportunity. In that role, the Lord shifted my ministry call in a more pastoral direction and we were led to go to seminary in 2008. We went to the Southern Baptist Theological Seminary in Louisville, KY. I received my MDiv in 2011. I was ordained in the Evangelical Presbyterian Church (EPC) in early 2012.
Q: Tell us about your ministry experience.
I have been in full-time ministry for almost 20 years. I started out in full-time ministry as Youth Director at Evangelical Community Church in Cincinnati, OH. The Lord led us to seminary and while we were in Louisville I served as the volunteer youth director at a church plant called Faith Community Church. After seminary, we accepted a call to West Lafayette, IN and I served as Pastor to Students and Families there for about 5 years. We were then called to Greensboro, NC, and served as Pastor at Memorial Presbyterian Church until the end of 2020.
Q: Outside of your full-time job, what other ministry capacities do you serve in?
A: I have served on the Next Generation Ministry Council for the General Assembly of the EPC for almost 5 years. I have been serving on the Church Development Committee for the Presbytery of the Mid-Atlantic for about 2 years. Most recently I have accepted the role of Transitional Missional Director for a new presbytery region being created out of our current presbytery.
Coming to FamiliesAlive
Q: How did you first hear about FamiliesAlive?
A: I learned about FamiliesAlive while serving on the Next Generation Ministry Council through the Evangelical Presbyterian Church. Dave Baer [FA's President Emeritus], was serving as an advisor to our council and I enjoyed getting to know him and more about FamiliesAlive. I realized that he and I had a similar heart for seeing parents catch a biblical vision for discipling their children. After some time of working on that council together. Dave asked if I would be interested in serving on the board of FamiliesAlive. Because of my interactions with Dave and knowing the heart the Lord gave him and knowing about the heart of the ministry overall, Jodi and I thought it would be a special opportunity.
Q: Why did you join FamiliesAlive?
A: When FamiliesAlive extended a call to me to become Pastor to Churches and Families the Lord had already been welling up in me a greater and greater zeal to see God's people grow in their faithfulness in discipling the next generation. So, Jodi and I had to immediately commit this potential call to prayer. It is one of my greatest joys to see parents and God's people sacrificially and intentionally discipling the next generation. I would love to help church leadership, parents, and congregations grow in the biblical vision of doing this! I see my role mainly continuing to help FamiliesAlive in the areas of creating resources to equip God's people, seeking speaking engagements in order to be a catalyst voice in creating more biblically faithful next-generation discipleship cultures in churches, and providing consultation to church leadership in their efforts to create more faithful next-generation discipleship cultures in the churches they shepherd. 
Family Life
Q: Tell us about your family.
A: My wife, Jodi, is the greatest earthly gift of my life! She is a godly woman who is so gracious and kind in her interactions with people. We met in high school and started dating, way too early, when I was a sophomore and she was a freshman. We've been married for 20 years – couldn't go on a 20th-anniversary trip last year in the midst of COVID. I love date nights each week with my bride! It is a gift to sit and talk with her and share good food together! She has a smile and countenance that is so vibrant!
We have six children: Titus – 17, Sam – 16, Mara – 14, Lily – 12, Drew – 10 and Cohen – 8. Titus loves to draw, especially his favorite characters from stories and movies. Sam loves to be outside and work with his hands. Mara loves events, even everyday ones – inviting people into them and being invited to them. Lily has always loved crafts and making pretty things and more recently has loved playing guitar and piano. Drew is the biggest sports fan in the family and he will play any sport at the drop of a hat, especially football. Cohen loves to be at home and play Legos. I love seeing how all of them interact with one another, especially around the dinner table. It has also been fun to see our older drivers take the younger siblings on trips to the gas station and other places to get fun treats.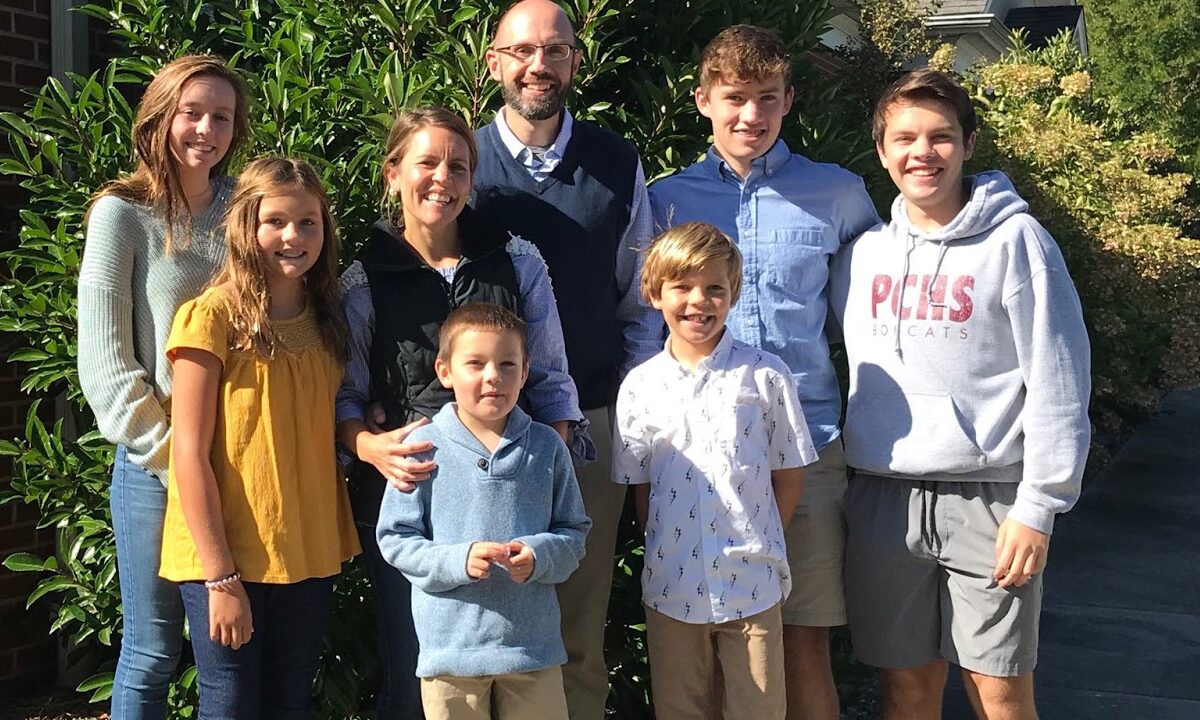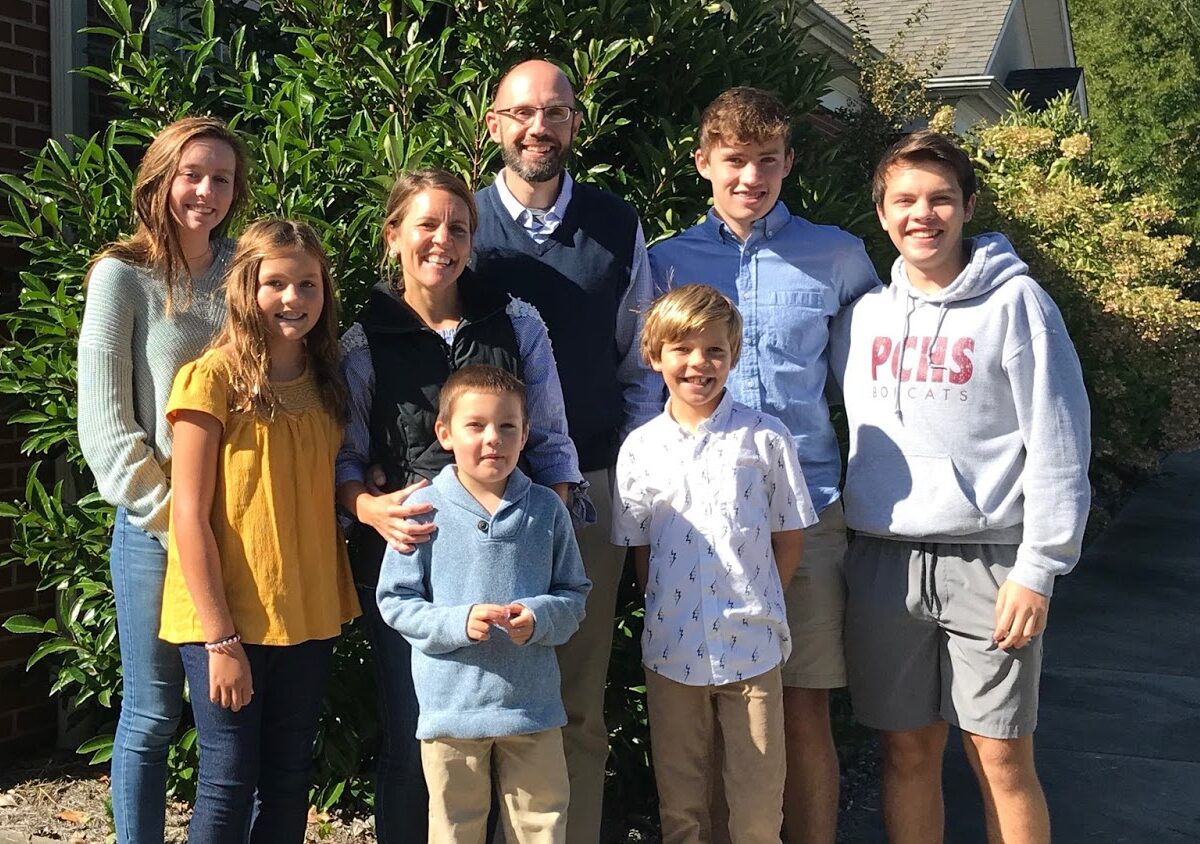 Q: What are your favorite things to do with your family?
A: I love to go on dates with Jodi each week, usually Thursday. We have three go-to kinds of food on those date nights: pizza, Chinese, or a good burger. With my kids, I love legos, playing football, watching Star Wars and Marvel stuff, talking with them about the Lord, going on dates with them, watching them play sports, sometimes getting to coach them, going on walks together, and taking an interest in what they are interested in. We love to get ice cream as a family – picking it out at the store and going to an ice cream shop (usually Ozzie's here in Greensboro).
Fun Facts
Three strengths?
Teaching, encouragement, and one-on-one/small group discipleship.
Three weaknesses?
Administration, some perfectionistic tendencies that can paralyze my work at times, trying to do too much, and not delegating more. 
Favorite restaurants?
My favorite restaurant is Skyline Chili – in Cincinnati. It's just too good! A few other great places would include Moe's, Pizza King (thin crust, salty bottom pizza), Hops Burger Bar, and Graeter's Ice Cream (another Cincy Favorite).
Favorite sports teams?
We enjoy watching the Reds, Bengals, UC Bearcats, FC Cincinnati, and local sports here in NC.
Beach or mountains?
We are 2 hours from the mountains and 3 hours from the beach here in NC, so we like both. I do miss the Sierra Nevada Mountains that I enjoyed living in and skiing in while I lived in Tahoe.
Favorite music?
I really appreciate the thoughtfulness and sound of Andrew Peterson's music – he gets Scripture and my Savior in my mind and heart more and more. I now and again go back to many of the songs by U2 that I grew up with. 
Favorite Scripture passages?
My favorite Scripture passages are the book of Jonah, Philippians 2, and Ephesians 2. In Jonah, we find that God has always cared about the nations coming to know Him and He loves to extend grace and mercy. In Philippians 2, we get one of the greatest presentations of how we are to live and treat one another in light of who Jesus is and what He's done for us. In Ephesians 2 we see how active we were in our disobedience, sin, and rejection of God and then we see that God, in His grace, did all that we could not and did not want to do in being redeemed.