There has always been something special about Palm Sunday. The waving of palm branches. The singing and shouting of "Hosanna!" The young worship dancers leading our hearts to praise in a different way.
I am always moved as I read of Zechariah's prophecy hundreds of years before Jesus came onto the scene in human flesh, and then am reminded by John that Jesus is the very fulfillment of that prophecy…
Rejoice greatly, O daughter of Zion!
Shout aloud, O daughter of Jerusalem!
Behold, your king is coming to you;
righteous and having salvation is he,
humble and mounted on a donkey,
on a colt, the foal of a donkey.
(Zechariah 9:9)
The next day the large crowd that had come to the feast heard that Jesus was coming to Jerusalem. So they took branches of palm trees and went out to meet him, crying out, "Hosanna! Blessed is he who comes in the name of the Lord, even the King of Israel!" And Jesus found a young donkey and sat on it, just as it is written,
"Fear not, daughter of Zion;
behold, your king is coming,
sitting on a donkey's colt!"
(John 12:12-15)
What made me love Palm Sunday even more?
But this year, Palm Sunday has my heart in a way it never has before. At nearly 50-years of age, the Lord has revealed something wondrous to me–something that has surprised and delighted me. This wondrous revelation came from the very book of Revelation. While I am not an end times studier, and I do not usually engage in amillennial/premillennial/postmillennial, pretribulation/post-tribulation debates (although I do fall in one camp or another), I am a reader of and prayer through God's Word. Admittedly, the book of Revelation is not always fun to read and it's not always easy to understand, but man, oh man, the Lord has been opening my eyes to things anew! Two little verses have captured my heart for Palm Sunday:
After this I looked, and behold, a great multitude that no one could number, from every nation, from all tribes and peoples and languages, standing before the throne and before the Lamb, clothed in white robes, with palm branches in their hands, and crying out with a loud voice, "Salvation belongs to our God who sits on the throne, and to the Lamb!"
(Revelation 7:9-10)
Did you catch that? John's vision of heaven, which was revealed to John by the Lord Himself, includes a great multitude from every nation and tribe standing before Jesus, our Lamb on the throne, crying out His glory in one unified, loud voice with palm branches in their hands! There is glorious worship before our reigning Savior this very moment in the realms of heaven and palm branches are a part of that worship!
So, there we were, just two days ago, on Palm Sunday, the day we celebrate our King's humble entry into Jerusalem, waving our palm branches in worship before Him, joining those around the globe in celebration and worship, AND joining all of heaven as they are waving their palm branches in worship before Him on the throne!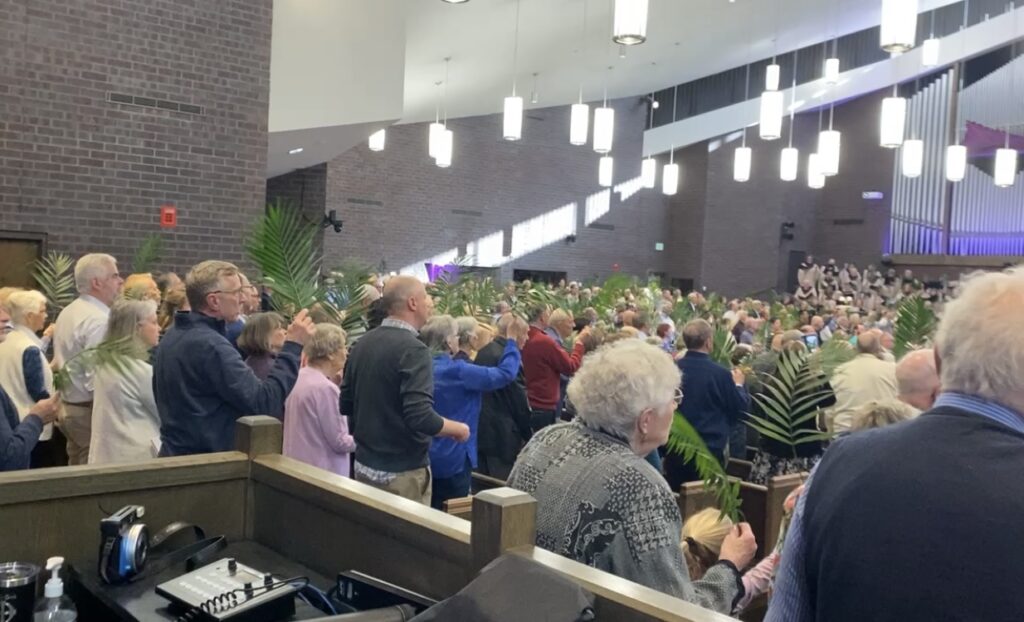 Waving my palm branch alongside a multitude
I was waving my palm branch alongside my community at Cherry Creek Presbyterian Church. I was waving my palm branch alongside my larger community, the global church.
But it doesn't end there. Those standing before the throne, clothed in white robes, with palm branches in their hands are those who have washed their robes and made them white in the blood of the Lamb (Revelation 7:14). Therefore, I was waving my palm branch alongside those I read about in God's Word who loved the Lord. I was waving my palm branch alongside Abraham, Moses, Rahab, Ruth, Boaz, David, Isaiah, Jeremiah, Elizabeth, Mary, Joseph, John, Peter, Paul (the list goes on). I was also waving my palm branch alongside family and friends who knew the Lord who have already entered eternity. I was waving my palm branch alongside Grandpa Ralph, Uncle Howie, Nana, Grandma Jo, Uncle Bobby, Susan Stephens, Sue Tameling, and Cheryl Rathke (the list goes on). Is that not a glorious picture?!
And just like that, Palm Sunday has become one of my favorite celebrations. May we raise our palm branches high, knowing we worship before the throne with all of heaven.