2015
That was a really painful year for me. The kind of pain that shakes a person to their core.
2016
Don't even get me started on the pain of that year!
I seemed to find some sort of rhythm in the pain, but just when I'd settle into a place of "this is painful, but it's okay," something else would hit me like a sucker punch, knocking the very breath out of me. Year after year, wave after wave of small pains and large pains threatened to overtake me.
Isaiah 43:1-3a has been a favorite few verses of mine for a long time. So much so that I have received homemade Isaiah 43 gifts over the years from my sister and my daughter.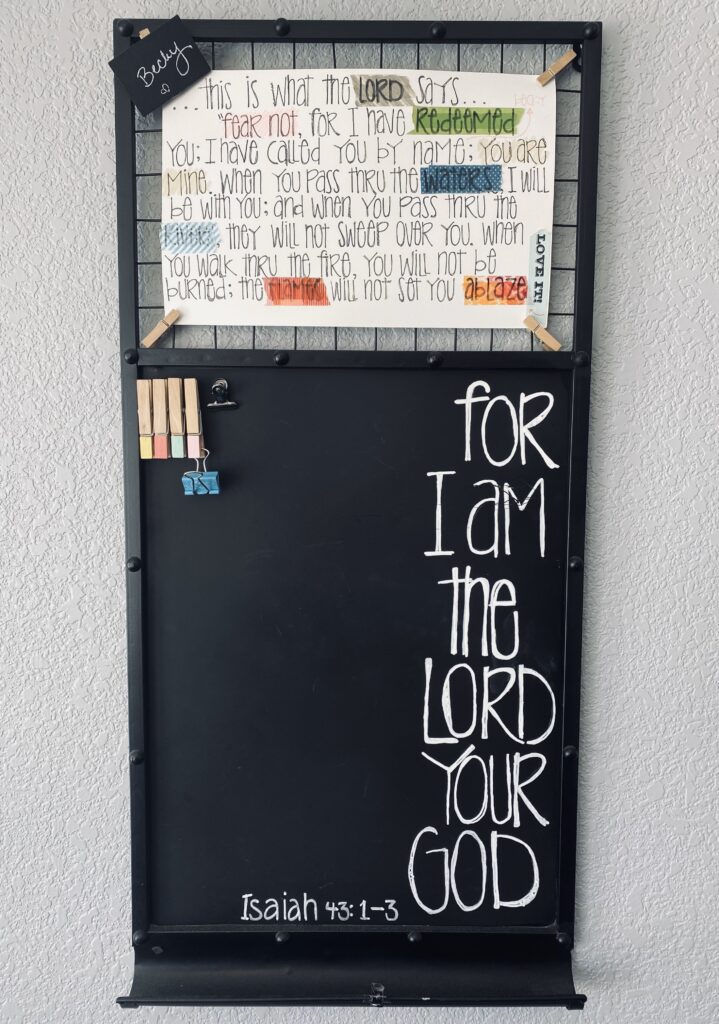 But now thus says the LORD,
He who created you, O Jacob,
He who formed you, O Israel:
"Fear not, for I have redeemed you;
I have called you by name, you are mine.
When you pass through the waters, I will be with you;
and through the rivers, they shall not overwhelm you;
when you walk through the fire you shall not be burned,
and the flame shall not consume you.
For I am the LORD your God,
the Holy One of Israel, your Savior."
I love those verses! When the waters rise and the fire threatens to consume, I remind myself that these words the Lord spoke to His people through Isaiah are words for us today. They are still true and will always be true because of who God is. Waters rise, but He is with me. I will not go under. Fire rages, but the flames will not consume me because He is my God and my Savior!
2018 & 2019
The years of pain kept coming. I experienced things I had never experienced before; things I didn't even know how to walk through. I remember thinking, it can't get worse than this!
2020
We found ourselves suddenly moving my parents far away after sharing a home together for 19 years. I was exhausted after a double move, ready for low, gentle waters and the warmth of a small, controlled, campfire. No more swirling waters and raging fire, please! But, you know, because you lived it too. Life was turned upside down by a global pandemic.
Things could only get better from here, right????
2021 & 2022
I can't share everything that was painful about the past two years in writing (one day), but the things I can and have shared were tragedies that left me reeling—the sudden death of a dear friend, the Superior fire and its aftermath, and the drowning death of my sweet father-in-law while we vacationed together. Those things + the things I am not able to share loudly yet have made me question the truth of Isaiah 43.
I have been burned by fire.
Last August, while the grief of the most painful summer I have ever experienced sat in, I went up to the mountains to think and write. I descended into Grand Lake, one of my favorite mountain towns, and my eye was immediately drawn to the damage from the October 2020 East Troublesome Fire. The hillside that is the backdrop for Grand Lake had been ravaged by fire.
This was the first time I saw the destruction in person. I drove around and took in the scenes, my eyes having a hard time believing what I was seeing.
She has been ravaged by fire rang over and over again in my mind.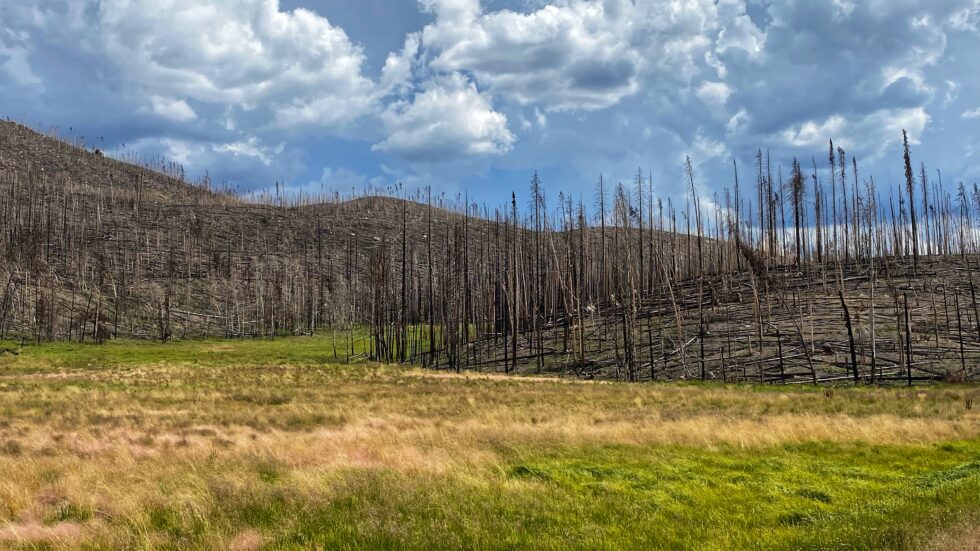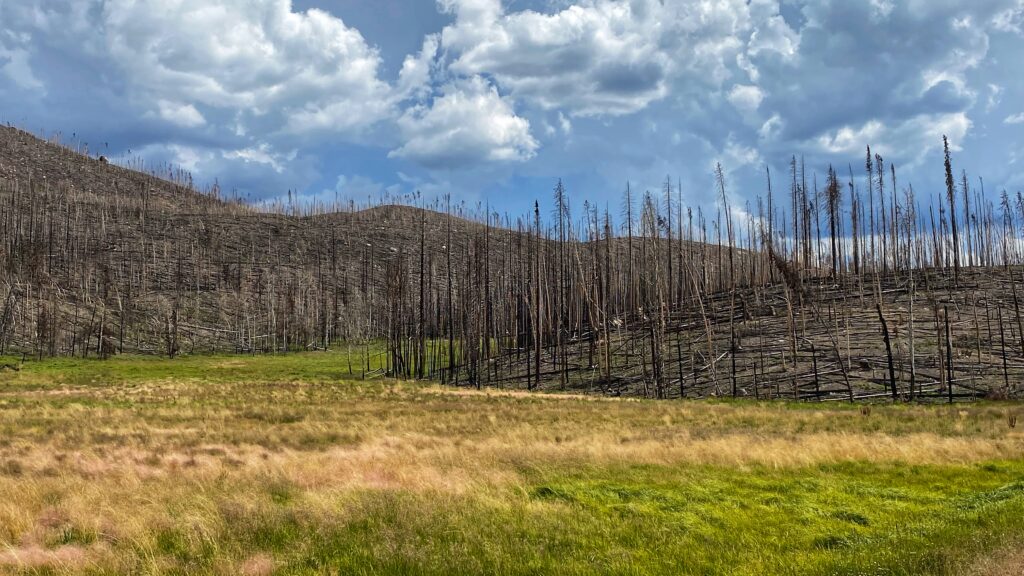 She has been ravaged by fire.
Slowly, new thoughts were added.
She has been ravaged by fire, but she is still standing.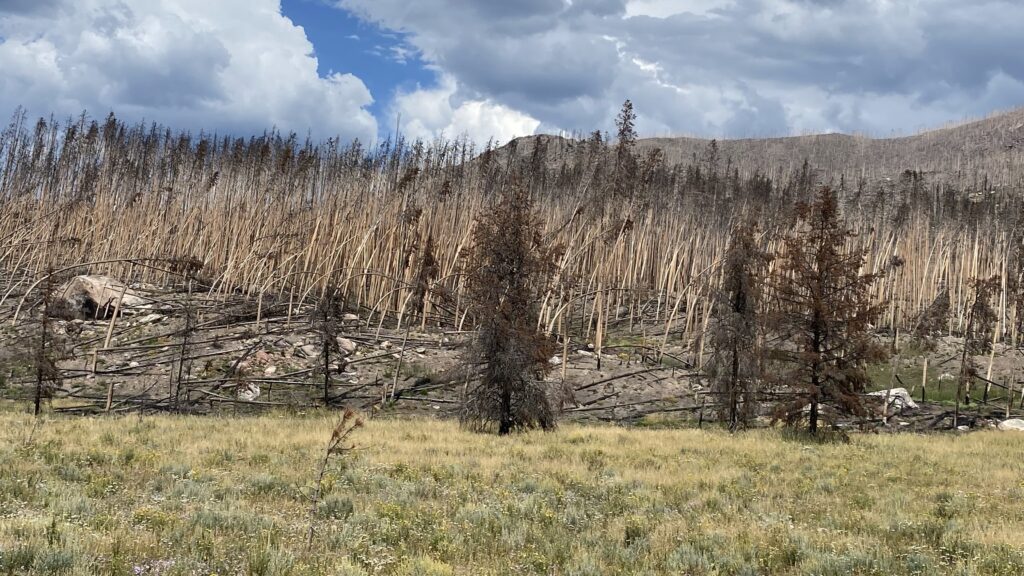 She has been ravaged by fire, but she is still standing and, though altered, she is still beautiful.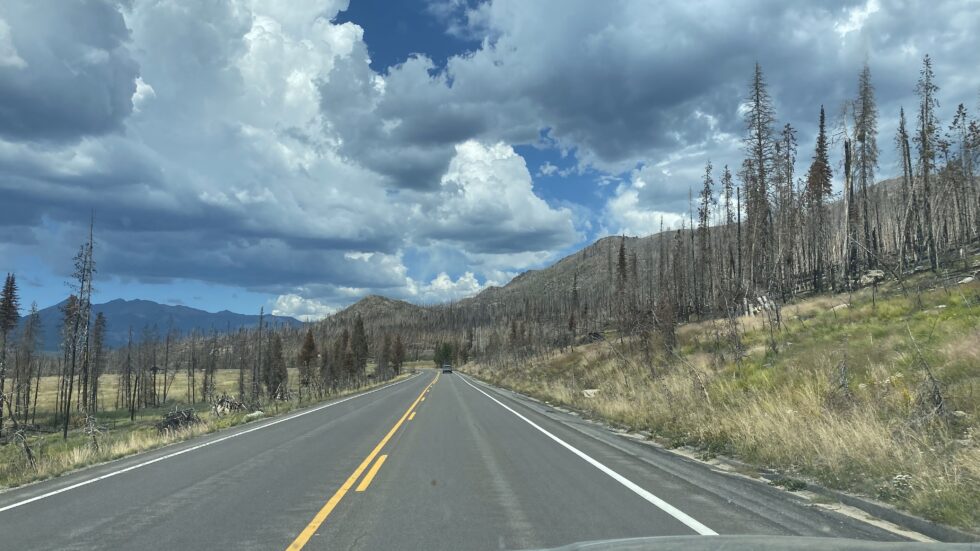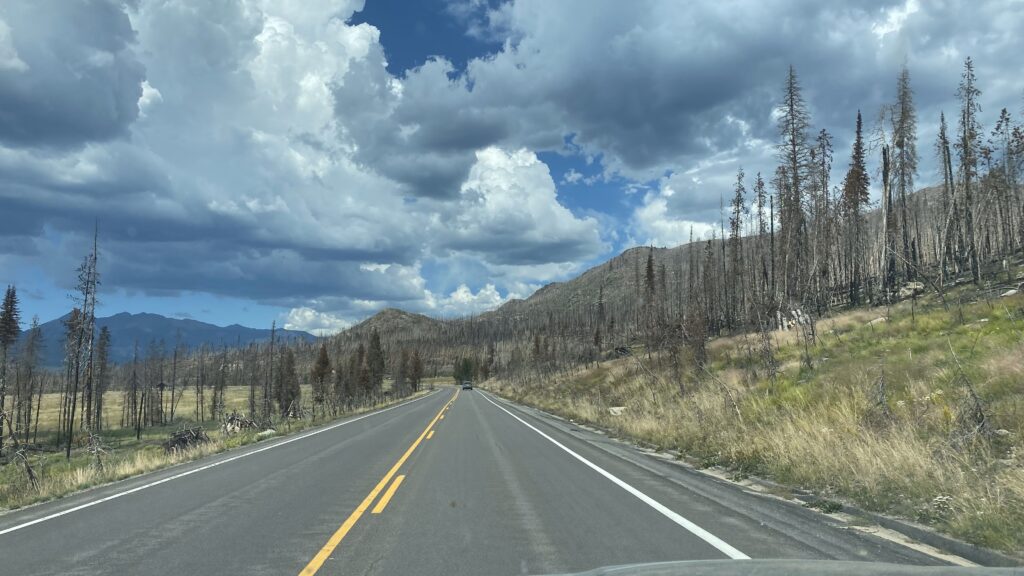 At that moment, the Lord whispered to my heart.
You too have been ravaged by fire, but because of my mercy and grace and lovingkindness you are still standing and, though altered, you are still beautiful.
I looked up at those ravaged, standing, beautiful hillsides and realized the beauty is there because those mountains still do what they were created to do. They declare the glory of our God. They proclaim the work of His hands. They point to their Creator.
And that, friends, is what we were created to do.
Beautifully ravaged
I have always considered myself to be beautifully broken because of the work of the Lord Jesus despite my sin; because of His work amid my sorrow. Now, I also consider myself to be beautifully ravaged. I have been ravaged by fire, but I have not been consumed (oh the glorious truth of Isaiah 43), and His beauty shines through His singed creation.
Let those of us who have been ravaged by fire declare the glory of our God. Let us proclaim the work of His hands. Let us point to our Creator!